BTPA is an autonomous non profit-making organisation run by Bowen Therapists for Bowen Therapists. Committee members are all practising Bowen therapists who understand and appreciate the needs and concerns of the members. No person with a vested interest will control the running of the association.
The following describes the work done by the organisation:
Setting standards which will help our members to work professionally within any new legislation or regulation introduced in the future.
Constantly assessing and accrediting new courses for members' Continuing Professional Development (CPD).
Provision of a Constitution, Ethics and Code of Practice, by which members agree to abide, upon joining BTPA.
Protecting the interests of the membership as a whole, while encouraging individual members in their endeavours.
Promoting Bowen Therapy more than any other organisation in the UK by:

funding and attending conferences and exhibitions
funding, organising and promoting 'Bowen Study programmes', to research the effect of Bowen on specific symptoms
consistently placing articles, press releases and advertisements in the national press
working with health professionals and health insurance companies
providing members with professional, 'branded' marketing material for their local and regional promotions.
There are 3 levels of membership category (student, associate and full) and many benefits of joining this professional association.
Download a summary comparison table of costs, requirements and benefits of the three different membership classes.
As a Full Member of the BTPA, you will be required to undertake continuing professional development, including a minimum of 14 hours hands-on BTPA accepted Bowen Therapy training every 4 years. An additional 20 hours CPD is required over the same period.
As a professional Bowen Therapist you may choose to be listed on the UK voluntary register of complementary therapists. The Complementary and Natural Healthcare Council (CNHC) has been approved as an Accredited Register by the Professional Standards Authority for Health and Social Care and accepts registration from qualified Bowen Therapists. BTPA can help in your application to join a self-regulatory body like the CNHC.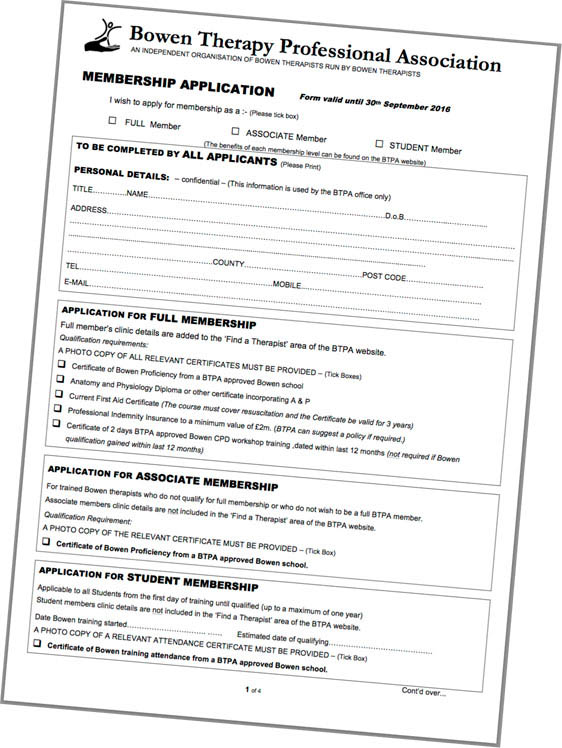 You may need to provide evidence that you have completed 'hands-on' Bowen CPD training in order to become a member of BTPA. Read the CPD requirements to see if that applies to you.
IF YOU ARE UNABLE TO COMPLETE ONLINE PLEASE CONTACT THE OFFICE