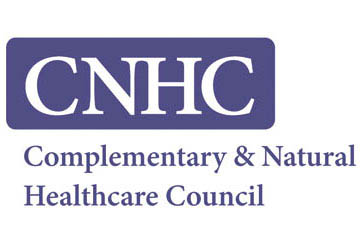 The Complementary & Natural Healthcare Council (CNHC) is the UK voluntary regulator for complementary healthcare practitioners that was set up with government support to protect the public by providing a UK voluntary register of complementary therapists.
CNHC's register has been approved as an Accredited Register by the Professional Standards Authority for Health and Social Care. This means CNHC has met the Professional Standards Authority's demanding standards. All CNHC registered practitioners are entitled to use CNHC's quality mark which demonstrates a commitment to professionalism and high standards. The public and those who commission the services of complementary healthcare practitioners can choose with confidence, by looking for the CNHC quality mark. General Medical Council (GMC) guidance confirms that doctors are able to refer patients to practitioners on Accredited Registers.
CNHC Registration
CNHC has agreed that BTPA may verify applications for CNHC registration and we encourage members to register in order to gain the CNHC quality mark.
To find out more about the CNHC visit www.cnhc.org.uk.
---
Members wishing to register should follow the instructions in the Members' area of the website.
---
If you are not a BTPA member but wish to register with the CNHC, you may apply via the BTPA. You will need to complete an application form and supply a photocopy of the following training certificates:
Certificate of Bowen Proficiency from a BTPA accepted Bowen school/tutor.
Anatomy and Physiology (A&P) certificate or other training certificate incorporating A&P (see our A&P requirements)
Current First Aid Certificate. The minimum BTPA requirement is a one day course that includes resuscitation where the certificate is valid for three years.
Professional Indemnity Insurance to a minimum value of £2m.
Certificate(s) of attendance covering a minimum of 14 hours Bowen workshop training (CPD) in the last 12 months, if your Bowen qualification was gained more than 1 year ago.
You will be required to pay an administration fee of £25.00 – payment by cheque payable to 'Bowen Therapy Professional Association', BACS (request our bank details) or card payment (telephone the office to pay over the phone). We require payment to be made up front in order to process your application. If you application fails - e.g. we are not satisfied with the documents you have supplied, or you have not completed enough CPD - you will not receive a refund of your administration fee.
Scan and email your forms and certificates to membership@bowentherapy.org.uk or you may post your documents to:-
B.T.P.A., PO Box 10844, Blaby, Leicester LE8 4YX
You will need to pay the annual CNHC registration fee once your application has been approved. There is a fee for registration of additional disciplines (to a maximum of four, after which it is free). Check with the CNHC about their current fees.